 
Oberwerk Sport ED 10x42
NEW Oberwerk Sport ED 10x42
OBERWERK SPORT ED
New! The Oberwerk Sport ED Series, with their ED (extra-low dispersion) objectives and wide 65° AFOV (apparent field of view), are the finest roof-prism binoculars we've ever offered. Because of the ED objectives, chromatic aberration, or false color, is completely eliminated from the view. Available in either 8×42 (8.1° FOV) or 10×42 (6.5° FOV), they're the perfect choice for advanced-level bird-watching and wildlife viewing, or for any type of viewing where flawless color rendition is necessary. While more expensive than our 8×42 Sport HD, they are much less than competitor's ED binoculars, and are truly an exceptional value. In fact SPACE.COM declared our Sport ED as "the one binocular to own if you can only have one."

Magnesium-alloy construction with attractive textured dark green rubber armor, with red anodized trim. The focus wheel and diopter ring is aluminum (most other brands use plastic). Like the Sport HD Series, the Sport ED's are completely waterproof. The internal focusers have the widest range of any Oberwerk binoculars, allowing them to focus as close as 6 ft. away! Oberwerk's signature broadband multi-coatings are found on every air-to-glass surface (fully multi-coated), and the prisms are phase-coated for highest-possible image quality. The eyecups are continuously adjustable- simply twist to move them in or out. Includes right ocular diopter adjustment, soft rubber ocular cover, captive soft rubber objective covers, rugged nylon case, and neck strap.
Weight     4 lbs
Dimensions     12 × 9 × 6 in
FOV     8x- 8.1°, 10x- 6.5°
Eye Relief     8x- 18mm, 10x- 16mm
Exit Pupil     8x- 5.25mm, 10x- 4.2mm
IPD Range     57-74mm
Minimum Focus     2m
Product Weight     1.48 lbs.


Trouble deciding between the 8x and 10x model?

Sport ED- 8×42 or 10×42?

The Oberwerk 8×42 and 10×42 Sport ED's are our best-selling binoculars. Because of that, we're asked one question more than any other- "Which do you recommend, the 8×42 or 10×42?" Here's what you need to know to make that choice-

1) The 8×42 and 10×42 are exactly the same binocular- same size, same weight, same price. The only way to tell them apart is by the "8×42" or "10×42" engraved aluminum plaque embedded in the focuser. What determines whether it's operating at 8x or 10x are the combination of lenses mounted inside the eyepieces. Makes you wonder why most competitors charge extra for their higher magnification model- right?

2) Magnification is inversely proportional to FOV (Field of View), which is simply the amount of the scene in front of you that's visible through the binocular. The 8×42 makes what you're looking at 8 times larger, with a wide 8.1° FOV. The 10×42 makes what you're looking at 10 times larger (25% larger than the 8×42), with a 6.5° FOV- which is a 25% smaller area than what is shown through the 8×42.

3) Both models have the same AFOV (Apparent Field of View), which is 65°. AFOV refers to how much of your peripheral vision is used in the view through the eyepieces. A wide AFOV (60° or greater) has more of a "picture window" view, while a narrow AFOV (50° or less) has a restricted "tunnel-vision-like" view. Whether you choose 8x or 10x, you'll have the same 65° "picture window" view.

4) So the main consideration is what would you prefer- taking in a larger part of the scene in front of you, or concentrating on a smaller area, but brought in a little closer?

5) There is one other thing to consider. A binocular that is hand-held is going to magnify any shake or tremor in your hands to the same degree as it's magnifying the scene in front of you. While this varies with the individual, some people will find 10x magnification somewhat difficult to hold still enough to get a steady view. 8x is the steadier choice for most people.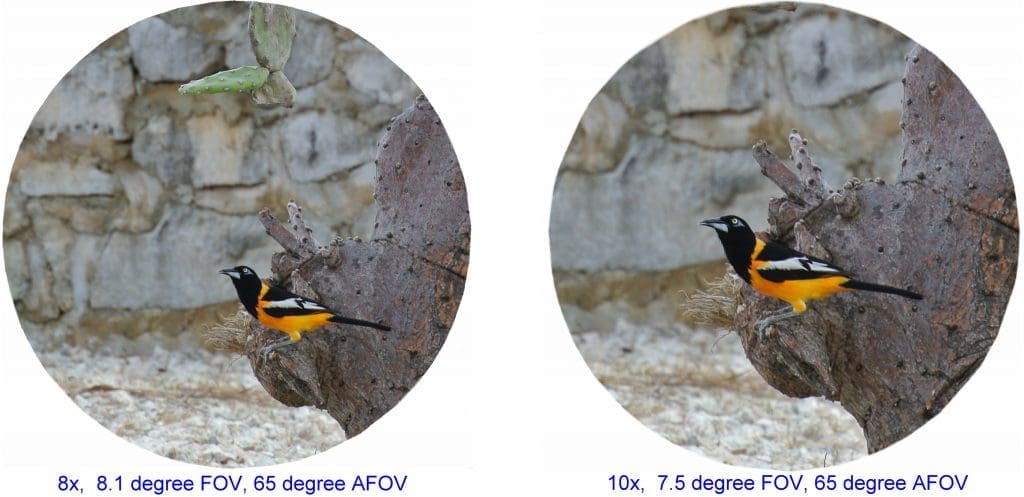 1 other product in the same category: