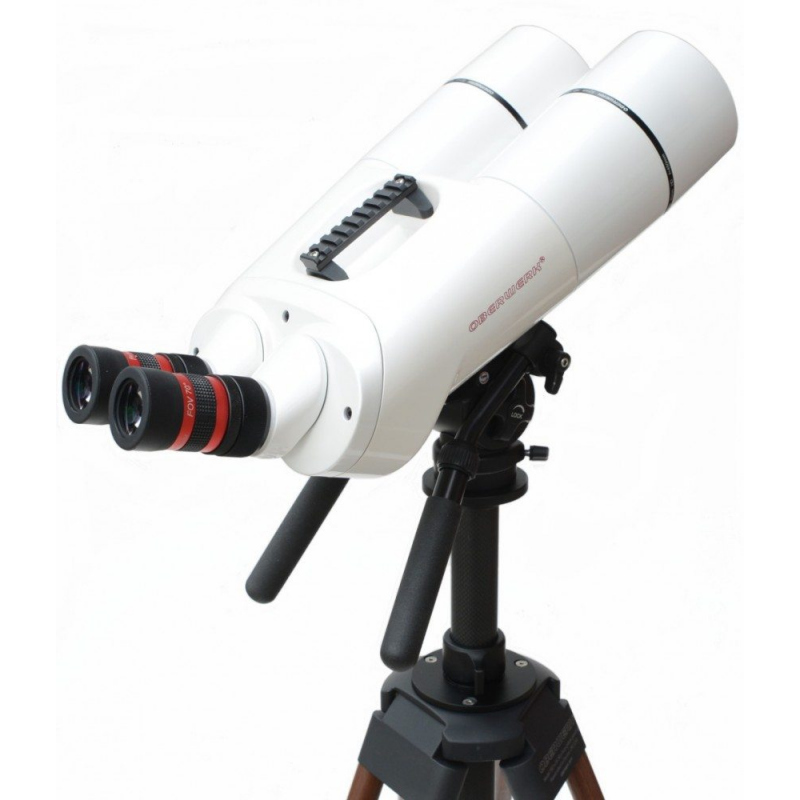  
OBERWERK BT-82XL
The BT-82XL is the non-ED version of the BT-82XL-ED, making it the most affordable of the XL Series. It offers remarkably-good performance, with minimal chromatic aberration up to 56x magnification (8mm eyepieces), and is ideal for every type of usage. With 82mm objectives, 24mm of clear prism aperture, and a lightweight magnesium alloy body, this binocular telescope sets a new standard for image quality AND portability. A binocular of this quality deserves great eyepieces, so we include our finest 70° AFOV 14mm (32x) eyepieces, which normally sell for $250/pair. Because of the industry-standard 1.25″ helical focusers, your favorite telescope eyepieces can be used as well. With the widest IPD range of any binocular on the market (50-80mm), even small children can view through both eyepieces.
Other features include a Picatinny rail handle (for mounting a wide variety of finders or laser pointers) and extendable glare shields. Not only are the XL Series the highest-quality binocular telescopes at anywhere near their relatively-low prices, they are also quite attractive! Available in your choice of a speckle-finish "Big Eyes" Gray or a lustrous "Luna Pearl" White, both featuring black-anodized trim. Our new heavy-duty aluminum-frame case is included. Every Oberwerk binocular is tuned to perfection prior to shipping- so even at extreme magnifications, you'll enjoy perfectly merged images.
3-year Limited Warranty.
Paypal Payments read carefully.
The new Paypal rules do not provide for the reimbursement of transaction costs.
Paypal retains all commissions from our company, consequently all refunds will be deducted by 5%.
We do not accept disputes.
10 other products in the same category: