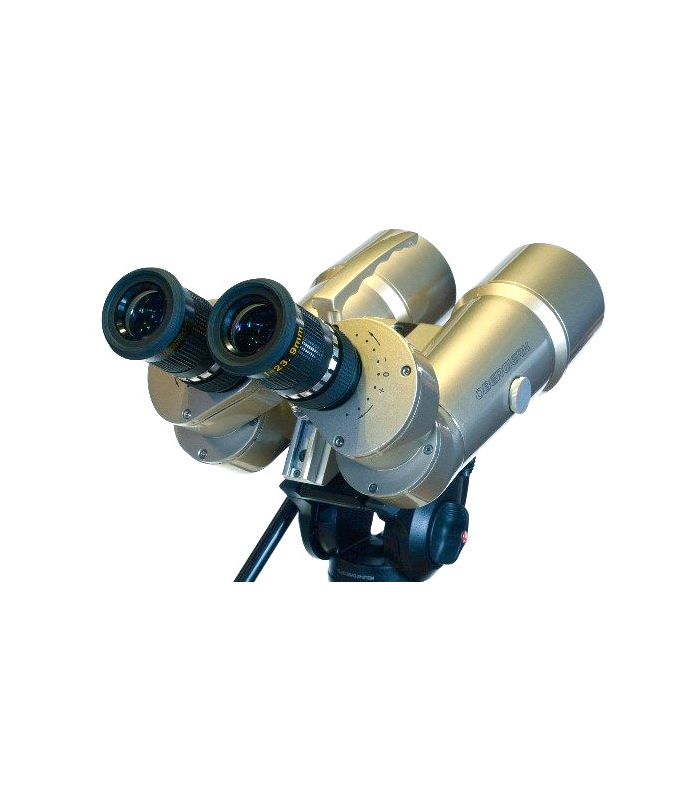  
Oberwerk BT-70-45 Binocular Telescope
Oberwerk 45° 70mm Binocular Telescope, the smallest and least expensive binocular with 1.25″ focusers on market. Includes 16x FMC oculars. Triplet objectives, broadband multi-coating throughout. Aluminum-frame case. Requires tripod mount.
The new 45° 70mm Binocular Telescope is the smallest and least-expensive binocular telescope on the market. At just over a foot in length, it is approximately half the size of the 45° 100mm Binocular Telescope, and at 8.5 lbs., is just 1/3 of the weight. For those with limited space, or needing easy portability, this new model is a great choice. Of course it also has Oberwerk's signature broadband multi-coatings on every lens surface, including the porro prisms and triplet objectives. Our finest 23.9mm (16x) fully multi-coated wide-angle (65° AFOV) eyepieces are included, and because of the industry-standard 1.25″ helical focusers, your favorite telescope eyepieces can be used as well.  The built-in retractable glare shields minimize reflections.
Complete package price includes binocular, removable handle, aluminum-frame case, and 16x eyepieces. If you need a mount, choose either the RP OPTIX T3 tripod/head. To add a finder, order the BT-70-45 finder mount. Because accurate collimation is critical at higher magnifications, every Oberwerk binocular is collimated prior to shipping- astronomy 072013-1so even at high magnifications, you'll enjoy perfectly merged images. 3-year Limited Warranty.
Here is a BT-70-45 review by Phil Harrington from the July 2013 issue of Astronomy Magazine.

Data sheet
Shipping weight

24 lb

Dimensions

19 x 19 x 11 in

FOV

4.0° (16x)

Eye Relief

16mm (16x)

Exit Pupil

4.3mm (16x)

IPD Range

58-76 mm

Product weight

8.5 lb
1 other product in the same category: